Schedule Service
We are near you.
Call General Rooter at 763-634-2564 or book online for sewer and drain cleaning in and around the Minneapolis/ St. Paul & Metro Area.
Call General Rooter of Southern MN for drain service today in Southern Minnesota
at 507-550-2564.
We Combat Clogged Drains
Our experienced sewer and drain cleaning technicians will quickly unclog your blocked drains and clear out your main sewer line.
Our vans are armed with state-of-the-art, professional drain snakes, cable machines, and mini jetters to tackle any drain or sewer blockage in your home or business.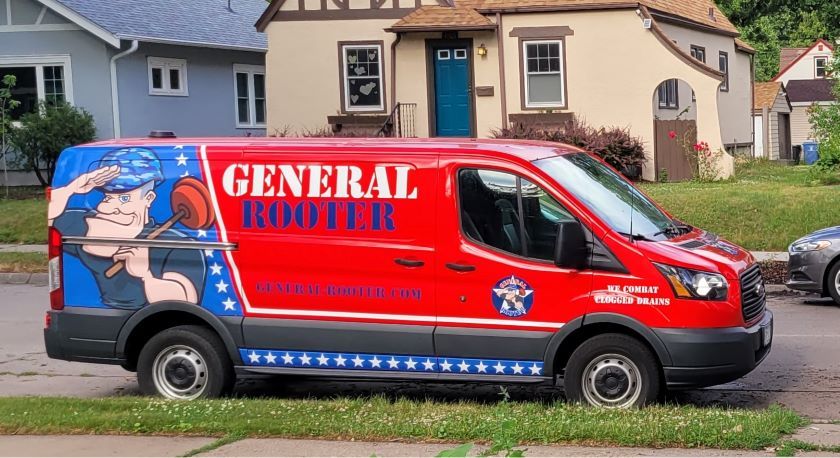 We also offer camera inspections of your sewer to identify what is causing the blockage and determine what needs to be done to restore flow.  If a need is revealed, we also do pipe descaling and pipelining.
When Can You Get Here?
We truly understand the impact of a sewer or drain problem – after all, they all feel like emergencies when it's happening to you. We pride ourselves on focusing on you and the needs of your family. Sewer and drain problems are very disruptive to daily life, and we know our services can help you and your family get your life back to normal. We make every attempt to schedule you as soon as possible. Main sewer line drain backups take priority as they are the core of your home's sewer and drain system, and we want to get things back to normal as quickly as possible.
We Offer Over 37 Years of Experience to Our Customers!
General Rooter Sewer & Drain Cleaning Services is a local, veteran, family-owned and operated company. It was founded by Robert Reynolds, a United States Army Veteran, back in 2014 after working almost 30 years for other residential and commercial drain cleaning companies while mastering his skills. His entrepreneurial desire and passion for service led him to start his own business. We now offer our customers over 37 years of drain cleaning experience!
What to Expect?
Prompt, friendly customer service
Integrity by all our employees
Knowledge & experience
Notification text when en route
Safety is a priority on all job sites
Explanation of the problem & recommendation for a solution
Referral, if necessary, to another expert when out of our scope of services
 Vehicles outfitted with the necessary equipment to perform services
Receipt with a description of services performed emailed from the job site
Detailed reports for sewer camera inspections, if needed
Payment is due at the time of service
Our "Senior" Technician, Robert, our organization's founder, trained our service technicians. It's not unusual for you to work with one of our family members during your customer experience. We think of it from our home to yours. Because we are working in a customer's home, safety is crucial.
We take Customer Service seriously!
We ensure friendly customer service from when you call to when our service technician completes the service call at your home. When calling to schedule an appointment, we do our best to schedule a timely appointment.  
Once the appointment is scheduled, we will text you a confirmation and a link to our customer hub, where you can see your current and past appointments and more.  Our technicians will then send a notification text to confirm when en route to your home. 
On-site, we will take the time to help you understand the problem and our recommendation before doing the work. If we detect a problem outside of our sewer and drain cleaning expertise, we can recommend another expert that we know and trust. We've been in the business for some time. We have nurtured solid working relationships with the very best by constantly meeting and working with experts in related fields. We hope this adds value to your experience working with General Rooter Sewer & Drain Cleaning Services.
We are Professionals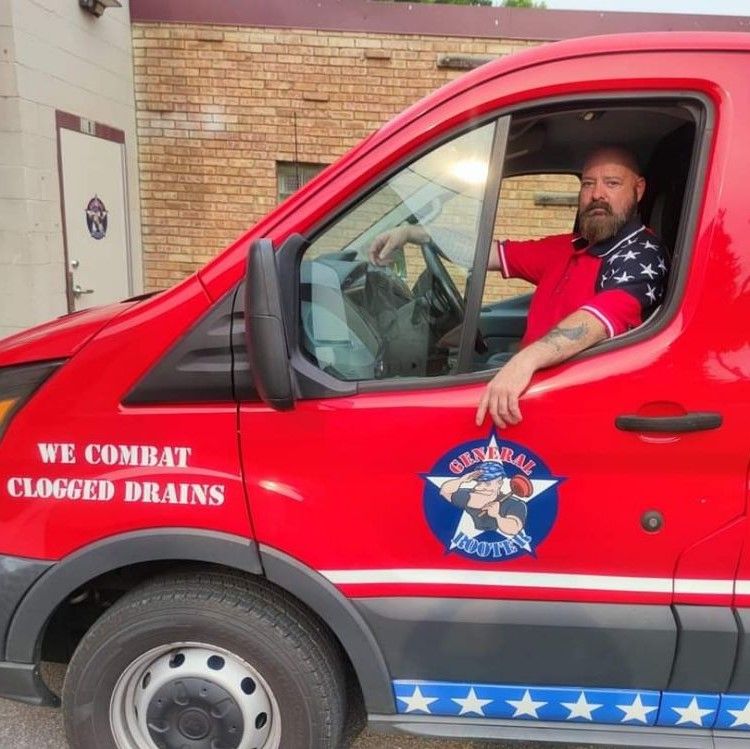 Our vehicles are clearly marked, so it is easy to identify when one of our drain service technicians arrives at your home or place of business. Our technicians have company shirts and business cards for identification. Our company work vehicles are outfitted with most of the necessary equipment for most services.
Payment is due at the time of service. Our technicians will provide customers with detailed (if possible) descriptions of services and issues in the receipt that we email directly to you. If you have a sewer camera inspection, you can expect a detailed report and a digital copy/link to the video. You and others you designate will receive a written report by email, either the same or the following day.
A Company You Can Trust
We built General Rooter Sewer and Drain Cleaning Services on honesty and integrity, a cornerstone for our employees. Because we are working in a customer's home, safety is crucial. All service technicians are drug tested and undergo a thorough background check. We want you to feel safe working with us and trust and feel good about referring us to your family and friends.
Contact General Rooter LLC today for more information for all your sewer and drain cleaning services. 763-634-2564 for the Minneapolis & St. Paul Metro, or for assistance in the Southern Minnesota area, call General Rooter of Southern MN at 507-550-2564.
Testimonials
"My wife and I were In desperate Sunday need to get our main drain unplugged. Jason and his terrific crew arrived in record time. They scoped out our drain lines first so they could identify the issue. Then they used their equipment and solved our problem rather quickly. General Rooter is now #1 when it comes to our drain cleaning needs. Fast, Professional, Courteous and Knowledgeable. Thank you."
-David Fritz
"I now have Rob on speed dial and has become my go to for all of our 12 properties throughout the metro area. Very fast service and always on time and most importantly does great work. The bonus is Rob is a Veteran and we appreciate his service to our country."
- Nate Martineau
"One call does it all. Rob is the real deal. Great working with a small business. Rob jetted out my kitchen drain and the gurgling is now gone."
- Blair B
"The General came out and cleared my drain. They made a big mess turn into not a bid deal at all. Thank you so much for being honest, upfront, clean, and prompt. I called three other companies, that were to busy, but the GENERAL got it done right away for me. They will be my first call, next time. Thank you so much GENERAL ROOTER"
- Don Coury
"Exceeding expectations for pricing and service. Cleared both toilets while increasing the flushing flow."
- Edward Peterson-Liu
"When sand fills up my drainage pipes, General Rooter is my first call!"
- Bradley Lawrence