Sewer & Drain Cleaning Services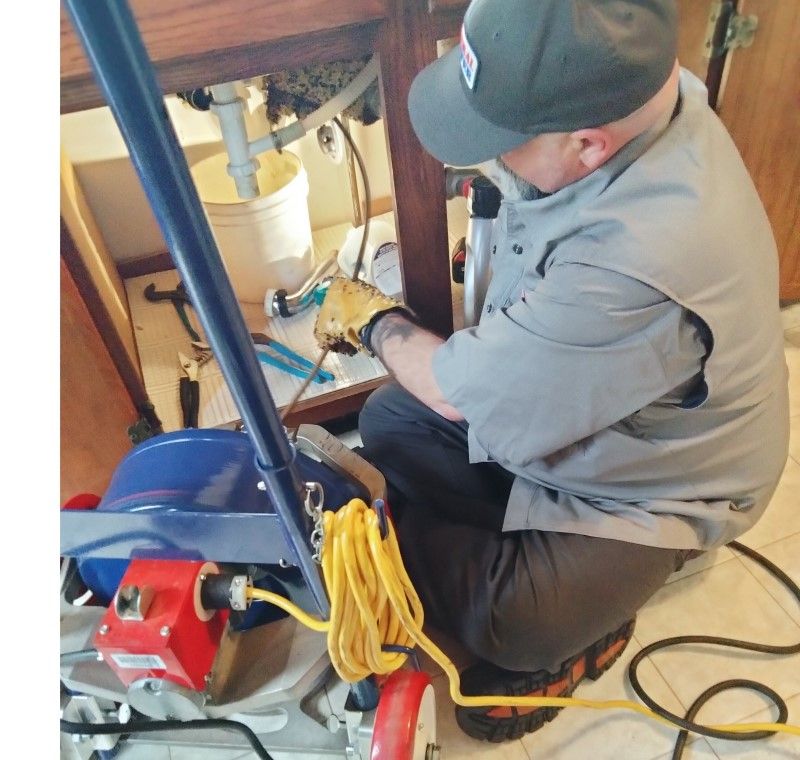 Many plumbing clogs can be resolved with a plunger and some elbow grease. Others require the use of an auger, cable, snake, or rod. A pipe inspection may reveal more serious problems. Many homes have problems with tree roots in the sewer line or the pipes are heavily corroded and need to be thoroughly cleaned with a Hydro Jet. Sometimes damaged pipe can be repaired with trenchless pipe lining. In other cases, the pipe may need to be excavated, removed, and replaced.
Whatever the problem with your drains or sewer lines, General Rooter's drain technicians have the skills and are equipped with the right tools for the job.
Drain Clearing/Cleaning
Drain clogged?  The team at General Rooter will ensure that your backed-up or clogged drain, main line, floor drain, sink, shower, tub, or toilet is taken care of quickly. Our vans are equipped to clean any drain in your home or business. Learn more about Drain Cleaning >>
Sewer Clearing/Cleaning
The sewer line runs from your home out to the city's main line sewer or your septic tank. Having a backed-up sewer line can cause problems all over your home and are often an emergency. At General Rooter, we understand and give sewer clearing scheduling priority over other drains.
The main causes of sewer pipe clogs include tree roots or things that shouldn't be flushed such as wipes, feminine products, and toys. It is recommended that you get your sewer cleaned every one to two years to help prevent larger issues in the future. Learn more about Sewer Cleaning >>
Video Camera Pipe Inspection
Sewer pipe inspections with a video camera can detect problems in your pipes before they become serious and are often a cost-effective way to diagnose what the cloning problem is. We use cutting-edge technology with a high-def camera on the end of a fiber optic cable so we can locate what is causing the blockage and where it is in the line. You will be able to see for yourself the insides of your sewer pipe to understand our recommendations for repair. Schedule your sewer video inspection today! Learn more about Pipe Inspections >>
Hydro Jetting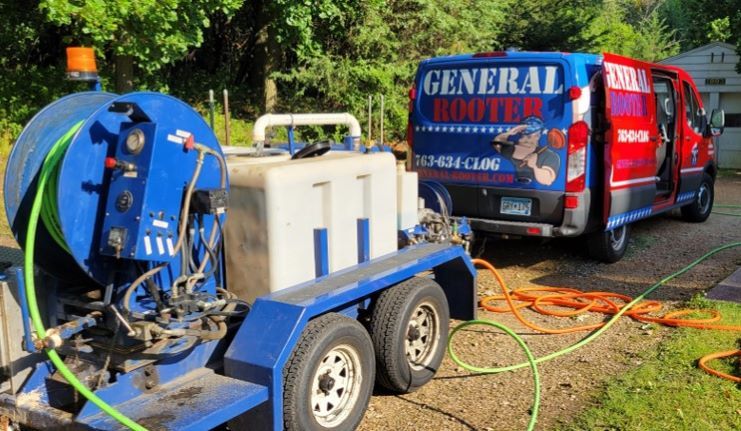 Hydro jetting, otherwise known as sewer jetting or water jetting, is a safe, efficient, environmentally friendly, and non-invasive method to thoroughly clean your drainage system. This helps homeowners and businesses restore and keep their plumbing's drainage system healthy, clean, and free from hazardous and stubborn blockages. Hydro jetting is often used to maintain drains and to clear blockages from tree roots, corrosion, or a buildup of gunk or grease. 

Drains may first be opened to restore flow with a cable before pumping high-pressure water through jet nozzles into the blockage and cleaning the sides of the pipe - keeping the pipe in the best possible condition. Learn more about Hydro Jetting>>
Pipe Lining
Pipelining, or Pipe Relining, is a trenchless process for refurbishing the insides of corroded, cracked or otherwise damaged lateral sewer lines.  We can reline the sewer pipe with our Cured In Place Piping (CIPP) from your home to the city sewer main without excavation or digging up your basement, slab, floors, yard, landscaping, driveway, or roads.
Most pipe lining repairs are performed and completed in one day to minimize disruption to your home or business. Contact us, and we will first perform a camera inspection to see if the procedure is appropriate and warranted for your sewer pipe. Learn more about Pipe Lining>>
Grease-Trap Cleaning
Grease trap lines are used to transport grease, usually from restaurants to a grease tank. This is important to keep clean and functioning properly to avoid backups and clogs that can cause your kitchen to not function properly as a result. Grease is highly corrosive as the lines require regular cleaning. This is where General Rooter can help with hydro jet cleaning to ensure the entire pipe gets cleared. Learn more about Hydro Jetting for Grease Traps>>
Call to Schedule Sewer and Drain Cleaning Services
Give General Rooter LLC a call today at 763-634-2564 for sewer and drain cleaning service in and around the Minneapolis & St. Paul Metro area, or for services in Southern Minnesota, call General Rooter of Southern MN at 507-550-2564.