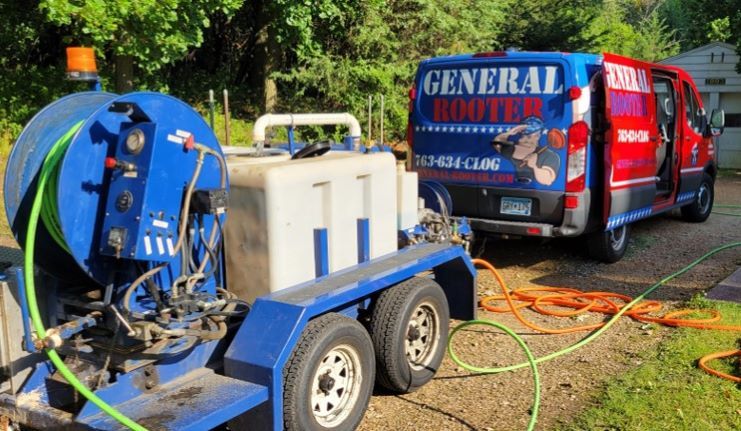 Hydro jetting can remove tree roots, the buildup of grease and sludge, and descale the entire length of the pipe.
Hydro Jetting Sewer Lines
Hydro jetting and Mini jetting are essentially the same things. The difference lies in the size of the equipment to be used. Drain lines 2" in diameter or less can be mini jetted. Sewer lines 3" or greater in diameter should be hydro jetted. Hydro jetting works exactly the same way as Mini jetting; State-of-the-art pumps and flexible heavy-duty hoses mounted with special nozzles propel ordinary water under very high pressure into the sewer line. To Hydro jet or Mini jet, we need to connect to a water source. The Hydro Jetter has a 300-gallon water tank and needs an outside spigot. The Mini Jetter can be connected to a faucet or laundry machine supply hose.
For both homeowners and commercial business owners, there are many benefits to hydro jetting. It effectively: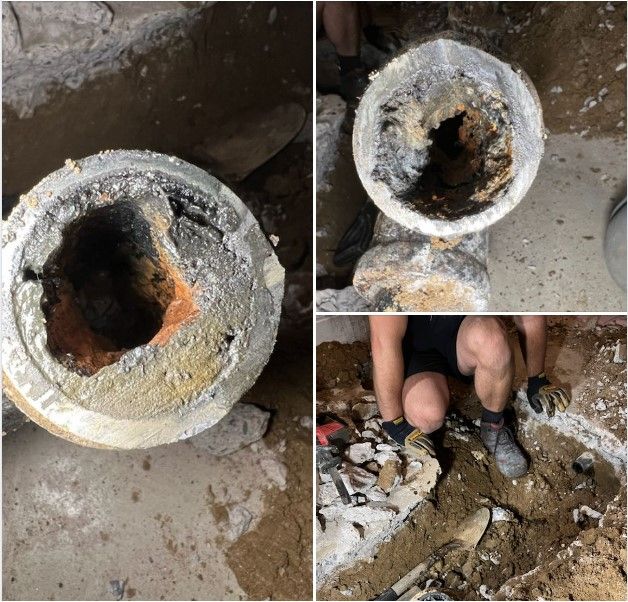 This is a drain that hasn't been cleaned in 30 years. Very often, we hear a customer tell us they have never had an issue with the drain before. It just started backing up. The truth is that years of buildup looks like this. Once the buildup is this bad, it won't drain. At that point, the concrete floor has to be broken up, and the pipe dug out to be replaced. Having interior drains hydro jetted out periodically to keep them clean will stop buildup and much larger issues from happening. If you own a home and it's older than 10 years, you may want to think about having your drains hydro jetted as a preventative measure.
Penetrates and melts away grease
Breaks up sludge and debris
Destroys and removes tree roots
Cuts through and removes hard minerals
Flushes the entire system without digging up floors, landscaping, or tearing up walls.
Hydro jetting is especially effective for homes with large tree roots in their sewage lines, restaurants that can accumulate a lot of grease, and commercial buildings with high volumes of sewage. If your drains are 2" or smaller in diameter, they'll require Mini jetting. Either way, the high pressure of the water could damage your sewer lines and should only be performed by a professional.
While there are many benefits to hydro jetting your sewer lines, it will not fix displaced or collapsed pipes. In this case, you'll need to have your sewer lines repaired by a professional.
Did You Know: Setting up scheduled hydro jetting maintenance for your commercial business will help to prevent sewer backups that can turn into costly repairs and expensive downtime down the road.
Severe blockages in commercial lines can be caused by grease, sludge, or other build-ups. Conventional techniques, such as drain snakes or cabling, will clear a blockage temporarily but can't fully clean the pipe or flush it out to clear debris. Jetting is the only method proven to clean 100% of the sewer line. Even the toughest blockages and build-ups can't stand up to hydro jetting.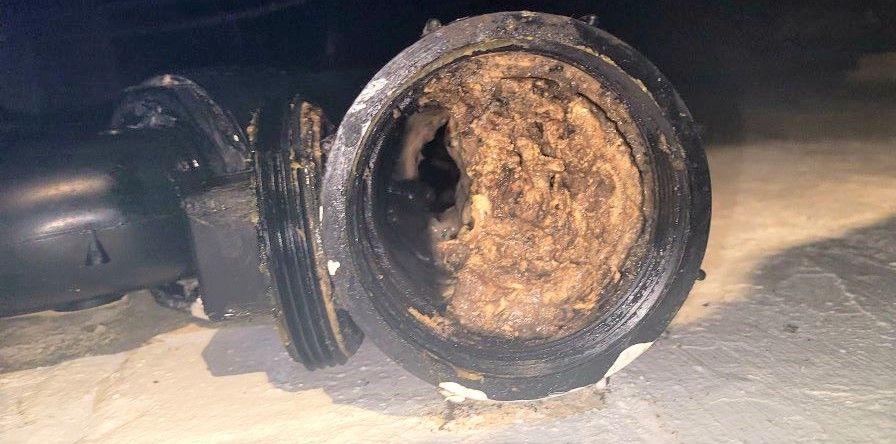 Grease buildup in a restaurant sewer requiring jetting
For residential or commercial hydro jetting, call General Rooter LLC at 763-634-2564 for the Minneapolis & St Paul metro area or call General Rooter of Southern MN at 507-550-2564 for hydro jetting in Southern Minnesota.