Sewer & Drain Cleaning in Owatonna, Minnesota
Call (507) 790-2564 to schedule drain cleaning services near Owatonna, MN area
Our sewer and drain technicians provide drain clearing and cleaning services for homes, businesses, and industries in Owatonna and nearby towns, including Blooming Prairie, Havana, and Clinton Falls
We unclog and clean your sewer and drains throughout your home or business, including kitchens, bathrooms, laundry rooms, and floor drains. We also have the right equipment and know-how for camera inspections, clearing blockages, and repairing your main sewer line.
We offer pipe descaling, camera inspections of drain and sewer lines, and hydro jetting to keep your drainage system clean. We provide grease-trap and sandpit cleaning for commercial businesses in and around Owatonna. We also thaw frozen pipes in winter and can install heat tape to prevent plumbing from freezing.
Services Provided
Pipe Lining
Grease-Trap Cleaning
Sand Pit Cleaning
Industrial Drain Services
Food Processing Drain Services
Business Hours
Monday through Saturday, 8:00 AM to 8:00 PM
Sunday 8:00 AM – 5:00 PM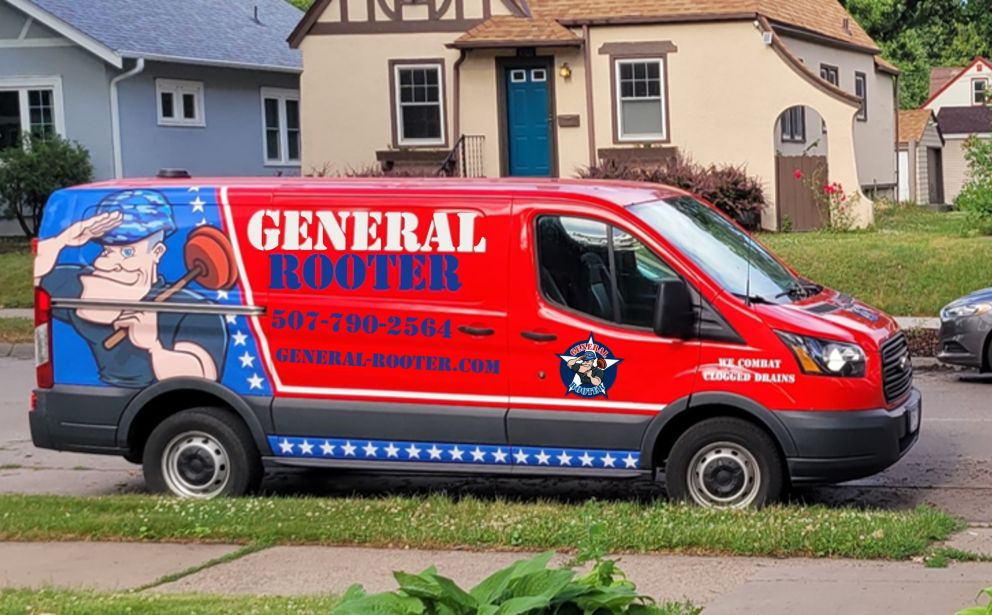 Our Service Area
We provide sewer and drain cleaning services in and around Owatonna and Steele County, including Waseca, Blooming Prairie, Havana, Clinton Falls, Meriden, Merton, Ellendale, Hope, and Medford, Minnesota. 
If you want sewer and drain cleaning services in Southern Minnesota, including Fairmont, Albert Lea, Owatonna, Northfield, Faribault, Le Sueur, Mankato, and more, visit Southern MN Sewer & Drain Cleaning.
General Rooter of Southern MN - Sewer & Drain Cleaning
Owatonna Minnesota Branch
1065 SW 24th Ave #116
Owatonna MN  55060
(507) 790-2564 (CLOG)
Owned and operated by Jason Viebrock, General Rooter of Southern MN.
Follow us on Facebook, Review us on Google, and see our work on our YouTube channel.