Sewer & Drain Cleaning in Southern Minnesota

Our drain specialists provide Sewer and Drain Cleaning services for residential and commercial buildings in Southern Minnesota. We unclog and clean all drains in kitchens, bathrooms, laundry rooms, floor drains, and main sewer lines. We offer Descaling of cast iron pipes, Video Camera Inspections of drain and sewer lines, and Hydro-Jetting, also known as sewer jetting or high-pressure water jetting, to keep your drainage system clean. We offer grease-trap and sand pit cleaning for commercial businesses in and around Mankato. We also thaw frozen pipes and install heat tape in the winter to prevent mobile home/trailer house pipes from freezing.
Services Provided 
Pipe Lining
Grease-Trap Cleaning
Sand Pit Cleaning
Pipe Bursting
Business Hours
Monday through Saturday, 8:00 AM to 8:00 PM
Sunday 8:00 AM – 5:00 PM
Our Service Area
We provide sewer and drain cleaning services throughout Southern Minnesota, including Blue Earth County, Brown County, Faribault County, Freeborn County, Le Sueur County, Martin County, Nicollet County, Rice County, Sibley County, Steele County, Waseca County, and Watonwan County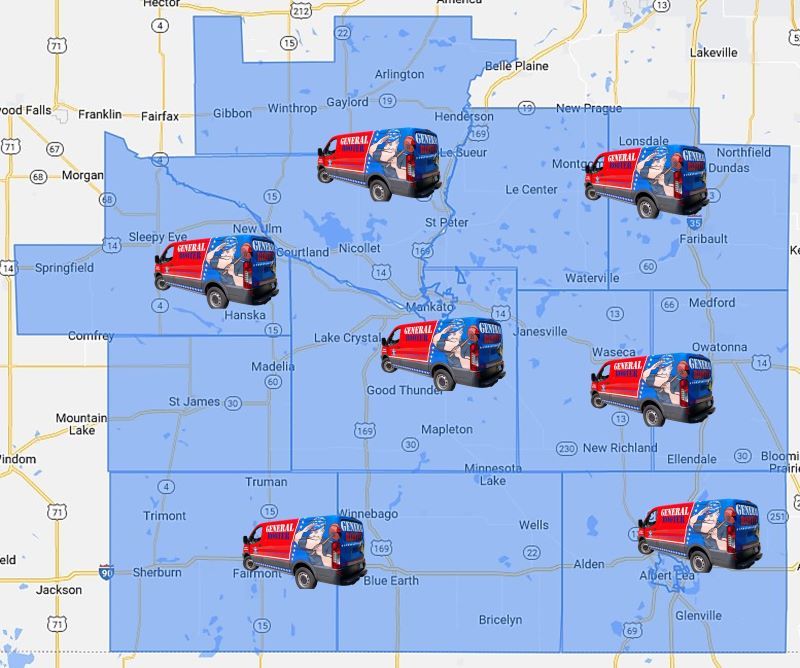 This includes the Southern Minnesota cities of Albert Lea, Amboy, Belle Plaine, Blue Earth, Courtland, Eagle Lake, Elysian, Faribault, Fairmont, Garden City, Good Thunder, Henderson, Janesville, Kasota, Lafayette, Lake Crystal, Le Center, Le Sueur, Madelia, Madison Lake, Mankato, Mapleton, Minnesota Lake, New Prague, Owatonna, New Ulm, Nicollet, North Mankato, Northfield, Pemberton, Skyline, Sleepy Eye, St. Clair, St. Peter, Vernon Center, Waseca, Waterville, Wells, and Winnebago.

General Rooter of Southern MN Service Area Map

In Le Sueur, Minnesota, we have a new office at 114 N Main Street, Le Sueur, Minnesota, 56058. Call (507) 888-2564 for sewer and drain cleaning in Le Sueur, Henderson, St Peter, and Le Center, Minnesota.

General Rooter of Southern MN is also providing sewer and drain cleaning in Albert Lea, Minnesota. Our new office is at 214 S. Washington Ave, Lower Unit #1, Albert Lea, MN 56007. Click or call (507) 821-2564 for Drain Cleaning, Sewer Cleaning, Hydro Jetting, Pipe lining, and more in the Albert Lea, Wells, New Richland, and Minnesota Lake areas.
General Rooter of Southern MN - Sewer & Drain Cleaning

Headquarters
1415 1st Avenue
Suite 460
Mankato, MN 56001
(507) 550-2564

Owned and operated by Jason Viebrock.

Follow us on Facebook and Review us on Google. See some of our projects on our YouTube Channel.

Proud Member of Greater Mankato Growth, the regional Chamber of Commerce and economic development organization, The Fairmont Area Chamber of Commerce for business in the Fairmont Minnesota Area, and Albert Lea-Freeborn County Chamber of Commerce