About General Rooter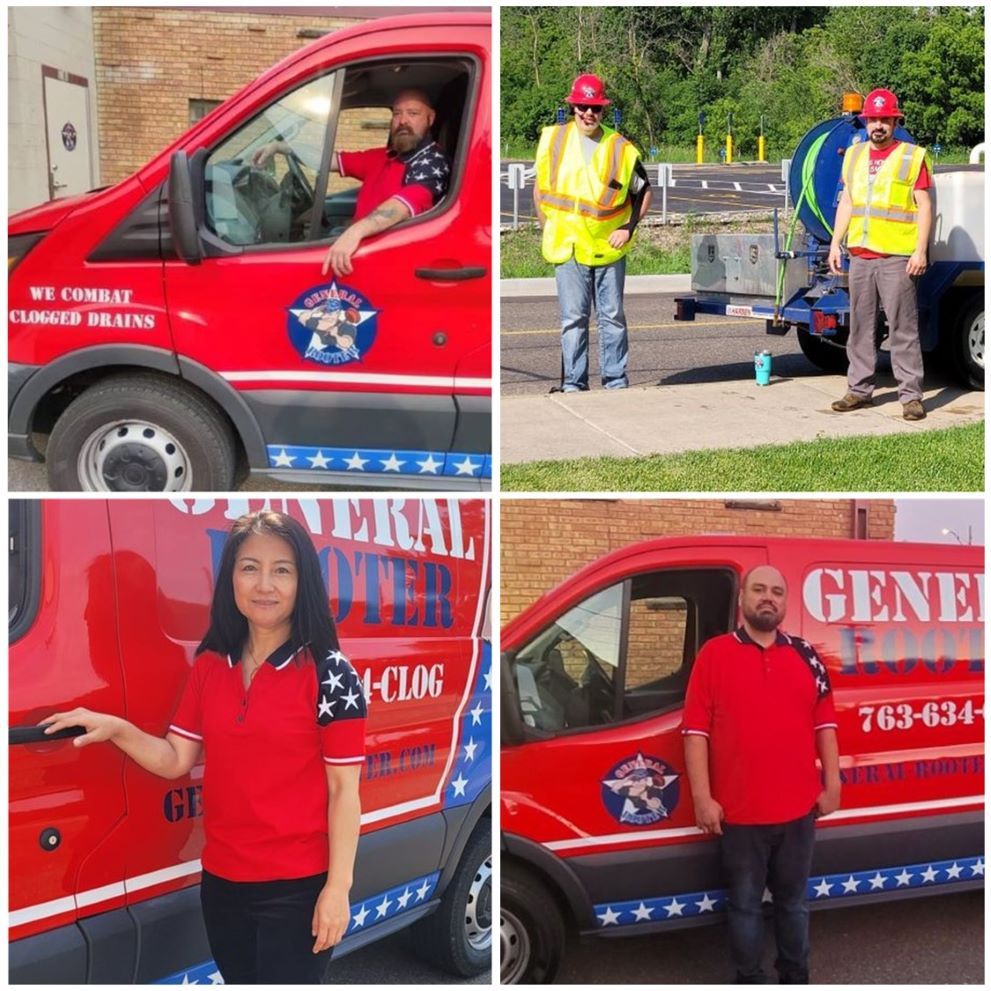 When you call General Rooter LLC, you know you will be getting the highest in customer service available. Professionalism, integrity, honesty, and pride in our workmanship are things our General Rooter LLC drain cleaners provide every customer every time. General Rooter LLC clogged drain technicians know you must have your drain lines working properly, we help our customers prevent sewer backups from occurring. General Rooter LLC drain cleaners service both residential as well as commercial buildings in the Minneapolis/ St Paul and Metro area. 
We also provide hydro jetting and camera inspection. General Rooter LLC residential sewer cleaning covers all the drains in your home. Main Lines, Sinks, Toilets, Showers, Bathtubs, Floor Drains, Frozen Lines, Laundry Tubs and Garbage Disposals to name a few.
We are now proud to welcome Jason Viebrock and General Rooter of Mankato to our family. They are serving the Mankato and surrounding area.
We take Customer Service seriously!
Because customer service is the cornerstone of our business, we take time with our customers to help them understand the problem, make a recommendation, and resolve the issue if it is within our scope of expertise. If not, we then work to make a recommendation to another expert that we trust our customers with.
Friendly customer service from the time you make the call to when our service technician completes the service call at your home. When calling to schedule an appointment, we work our best to schedule a timely appointment for you. Please keep in mind during rainy periods, extremely cold weather, and other times we can experience high volume. However, we will do our very best to serve you as quickly as possible.
A Company you can Trust
General Rooter LLC Sewer and Drain Cleaning Services was built on honesty and integrity, and this is a cornerstone of all our employees. We want you to know that working with us is a safe company that you can trust and feel good about referring your family and friends to us.
Our service technicians for the Minneapolis/St Paul metro area have been trained by our "Senior" Technician, Robert, also the founder of our organization. Our technicians will send a text notification in advance to let you know that they are in route to your home. 
We Love to Educate our Customers!
We pride ourselves on the education department. When it comes to customer service, we want to provide our customers with knowledge to make an educated decision when using our services. Because we've been in the business for some time, we've formed solid working relationships with other experts. When we have an issue outside of our area of expertise, we can recommend someone we know and trust to our clients. We call those working relationships for the benefit of our customers we are always meeting and working with other experts to add value to your experience with General Rooter LLC Sewer & Drain Cleaning Services.
We are Professionals.
Our vehicles are clearly marked with signage, so it's easy to identify when one of our Service Technicians arrive – along with Company Shirts and business cards for identification. When you schedule an appointment, we'll send you a confirmation email with a link to our client hub. Our company work vehicles are outfitted with the majority of equipment necessary for most services offered. Our technicians will provide customers with detailed (if possible) descriptions of services and issues in the receipt that we email directly to you. If you have a sewer camera inspection, you can expect a detailed report along with a digital copy/link of the actual video to be emailed to you either the same or the following day.