Sewer Line Video Inspection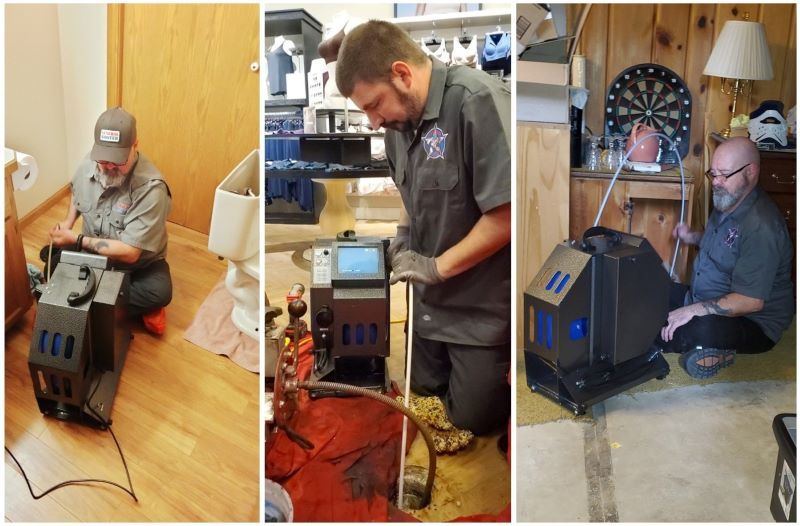 General Rooter is a sewer & drain company that conducts sewer inspections to determine what is causing a sewer line blockage and where it is located. 
We also use CCTV sewer inspections to inspect pipes before a problem is noticed. By using a sewer scope to view the entire drain line length from the house or business to the city's sanitary sewer connection, we can detect potential problems before they cause a disruption to your home life or business operations.
If you are experiencing
ongoing backups
repeatedly slow drains
frequent clogs
the only way to see and completely resolve the cause is with a video drain inspection.
Click or call to schedule a Pipe Inspection (507) 550-2564
Inspecting Your Sewer and Drains
Sewer pipe inspection is conducted using a drain pipe camera, sometimes called a sewer camera, sewer scope, borescope, or CCTV camera.  These small, waterproof, high-resolution pipe inspection cameras are mounted on the tip of a flexible fiber optic cable, which is fed through the sewer lines.  Pipe inspection cameras are designed to go around even sharp bends in the sewer line, so they can see all the way to the city main line sewer connection. Our sewer line inspection cameras can reach 200 feet in each direction.
Using a monitor, our inspection technician can see and diagnose sewer line problems that may otherwise go undetected:
Punctures from tree roots or other sharp objects

This customer had a couple of companies come out to unclog her sewer, but it would clog back up in 2 weeks. We first got drainage so we could inspect the line with the camera. We found a chunk of clay tile that had broken off and wedged into the pipe. We were able to get it out.

Cracks in clay or cast iron lines
Pipe collapse
Heavy corrosion in cast iron pipes
Channel rot
Misaligned or offset pipe joints
Grease build-up
Bellies in the sewer line
Objects that cause obstructions
The entire pipe inspection is recorded and shared with the homeowners or business, along with recommendations for fixing any problems detected.
After the drain pipe is fixed, it's a good idea to have a follow-up camera inspection to be sure the cause of the blockage in the sewer line has been removed, and any damage has been completely repaired.
Presale Inspections - Required by Cities or Buyers
It is becoming more common for cities to require home and business inspections at the time of sale. These Time of Sale Housing Inspections, Point of Sale Housing evaluations, or Property Maintenance Evaluations sometimes require a sewer line inspection.  And more and more buyers are asking for sewer inspections.  General Rooter works with cities, buyers, realtors, and inspectors to conduct the sewer line inspection and make the inspection video and report easily available to all concerned.
Inflow & Infiltration or I/I Inspections
Inspection showing tree root intrusion at 101 feet

If groundwater seeps through openings into a home's or business's sewer line, it unnecessarily strains the city's sanitary treatment facilities. To reduce this problem, inflow/infiltration or I&I inspections are sometimes required by cities before a property can be sold.

If a sewer line infiltration inspection finds any tree roots or cracks, the city may require that the problem area be replaced or relined. Before an inspection by a city employee or their partners, you should consider having General Rooter inspect to detect any problems and thoroughly clean the sewer pipe with our Hydro Jetter to remove tree roots before conducting another video inspection. We can then work within the city's guidelines to provide a copy of our inspection video and report.
ABOUT GENERAL ROOTER
General Rooter of Southern MN - Sewer & Drain Cleaning is a locally owned and operated sewer and drain cleaning company. We provide sewer services in Mankato, Albert Lea, Fairmont, Le Sueur, Northfield, Sleepy Eye, and all places in between.

We are professionals. Our vehicles are marked, and technicians have company shirts and business cards. When you schedule an appointment, we'll send you a confirmation email with a link to our client hub that provides details of your current and past appointments. Our technicians will send a text notification to tell you when they are en route to your home.
For a pipe inspection or other problems with your sewer and drains, give General Rooter a call at (507) 550-2564